You don't need to leave Washington to visit the Holy Land. The Franciscan Monastery near Catholic University has been a pilgrimage destination since the early 20th century. You can tour the church (with catacombs) and also visit the replicas of sites from the Holy Land in the monastery garden.
When you come onto the Monastery grounds, take the left-hand walkway look for the sign for "Visitors Entrance." Enter there, and follow the hallway to the left. You will end up in the Tour Lobby. To visit the catacombs, you must join a tour, which will last about an hour. The last tour of the day is at 3 p.m. The monastery requests a donation of $2, which you can place in a box at the end of the tour.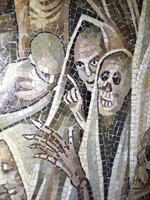 You do not need to join a tour if you just want to look around the church and enjoy the gardens, which include replicas of several Holy Land sites and the Grotto of Lourdes.
The monastery is located at 1400 Quincy Street, NE, Washington, DC, a ten-minute walk from Brookland/CUA Metro Station. There is a parking lot, as well as on-street parking in the neighborhood.
A map of the monastery church and grounds is available in PDF format by clicking here.